Winter STEM Camp for the students of five schools began on 7th January 2022 with the students of Garpawoong Middle Secondary School. The Science Technology Engineering Mathematics (STEM) camp is organized by Jigme Namgyel Engineering College as part of its promotion of STEM Education at a grassroots initiative.
In the two-day workshop, students are introduced to two STEM educational tools; runlinc and Arduino. Students started with hands-on learning by implementing basic applications such as controlling lights. It was followed by assembling household devices and controlling them using the sensors to implement the concept of automation. Students were also introduced to the basic concepts of the internet of things (IoT) by controlling physical devices such as bulbs, fans and buzzers connected to the internet remotely. Students developed an ON/OFF button webpage to control the home devices remotely. All these activities were included to enable students to understand the concept of automation, IoT, and Artificial intelligence (AI).
The participants were able to realize the implementations with the basic programming language knowledge on C/C++, JavaScript, and HTML. Students were also able to relate their basic understanding of programming languages such as python and Code Monkey taught in schools.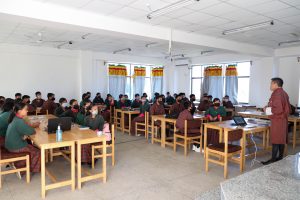 At the closing session, the President of the college interacted with the participants and shared about the college's role in the community. He said JNEC is the only higher education institution in the Samdrup Jongkhar region and community service is one of the college's priorities. He said this STEM camp is to provide the rural youths' access to STEM technologies, thereby playing a role in bridging the digital divide between youths in the rural and the cities. The camp is organized to help ignite STEM interest among the rural youths and embrace it from an early age. President also informed that the college will continue to provide such platforms and seek to collaborate with the schools in STEM monitoring and mentoring.
The same camp was organized for the students of Samdrup Jongkhar Middle Secondary School and Samdrup Jongkhar Primary School from 10th – 11th January 2022. Besides the basic courses on automation, IoT, and AI, students were also informed on the significance of STEM in solving social issues. The significance of early access to technologies to harness youths' creativity, innovation, women empowerment and gender balance through STEM were also shared with the participants.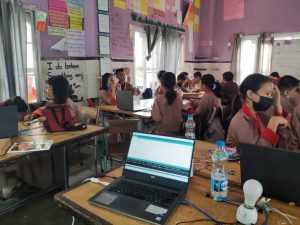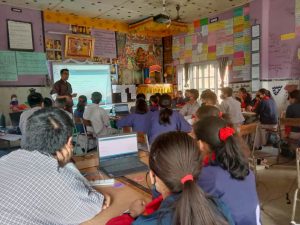 The next stop will be with the students of Karmaling Higher Secondary School on 15th – 16th January 2022. The Winter STEM Camp will close on 25th January with the students of Dewathang Primary School.