Problem-Based Learning is an instructional method in which students learn through facilitated problem solving. Jigme Namgyel Engineering College (JNEC) has introduced PBL on 8th May 2019 by organizing In-house Problem Based Learning workshop on Introduction to PBL.  PBL in JNEC is collective progression of teaching-learning pedagogy as a part of the European Union (Erasmus + Capacity Building in Higher Education Program) funded project titled 'Strengthening Problem Based Learning in South Asia Universities – PBL South Asia' for which JNEC is a partner institute along with nine partner universities across South Asia. The Project is led by Alto Global Impact of Alto University, Finland.
A PBL Workshop on 'Experience Sharing and Way Forward for PBL Activities in JNEC' was held on 4th November 2020. This is the third in-house workshop mandated to induced clear concept of Problem-Based Learning vs Project-Based Learning. The program was chaired by Dr. Andu Dukpa, who broadly elaborated on the difference in conventional idea of doing project and the PBL approaches. The workshop sorted another importance with experience sharing of two to three expert (experienced) staffs who underwent PBL workshop before. The Chair embarked on the introduction of four PBL courses to be implemented in the curriculum along with the set of equipment to be procured as a part of PBL project.
Mr. Thinley Tobgay, Assistant Lecturer from Electrical Department and Mr. Kul Prasad Sharma, Associate Lecturer from Department of Humanities and Management shared their two-week workshop experiences as working team on 'PBL South Asia Workshop for Faculty and Advanced students at IIT Bombay'. They shared that the basics aspects of PBL approaches does not require specific background. The key concept is to understand the assigned theme in the group, collaborate and to garner the thinking results. The method is to find the ill-structure in order to re-structure the defined one with numerous solutions unlike Project-Based Learning with particular and precise outcome. As a working team, they understood that PBL is a method to engage students' curiosity and initiate learning the subject matters. It also prepares student to think critically and analytically, and to find and use appropriate learning resources.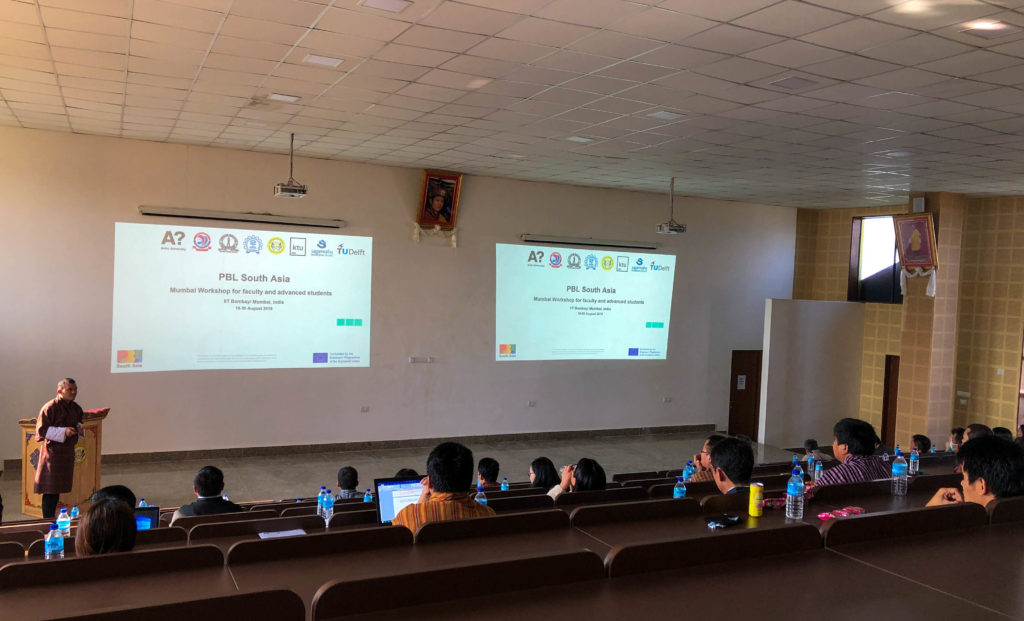 From an academic's point of view, they found out that PBL has great essence in teaching-learning session. PBL is student-centered and problem-centered, uplift teamwork and collaboration, promote self-learning and enhance critical thinking and is a measure to "think out of box". For PBL based projects, the role of mentor is not to monitor and intervene the group constantly, instead the mentor facilitates the group towards independent learning in joint effort and make resources available for them when required.
Mr. Phuba Tamang, Assistant lecture from Civil Department also presented his experience of being two weeks mentorship. He mentored a pilot PBL student case with team from Aalto University comprises of four students and five students from JNEC. The group was assigned on 'sustainable waste management in Samdrup Jongkhar Thromde'. The team members comprise diverse discipline with related to waste management, nevertheless the study by the team showed practical solutions and recommendations.
The event ended with the information on the introduction of the four PBL based modules in the curriculum of Diploma and Bachelors programme that will be implemented from Autumn Semester 2020. The decision was approved through 2nd CAC meeting. The four modules are:
Project Work (PRW201) for final year Diploma project.
Basic Research Methods and Seminar (PRW302) for B.E. in power engineering and B.E. in Surveying and Geoinformatics programme.
Project Work (PRW404) for final year project of BE power engineering
Project Work (PRW405) for B.E. in Mechanical Engineering programme and B.E. in Surveying and Geoinformatics.
The existing modules as mentioned above were reviewed with addition of PBL approaches.