On behalf of students of Jigme Namgyel Engineering College, the student leaders presented the statue of Pel Dueki Khorlo (Sanskrit: Kalachakra) to the President of the college.
Khenchen Sonam Tashi of Chokyi Gyatso Institute, Dewathang consecrated the statue.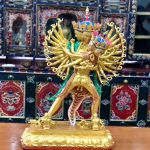 Pal Dhueki Khorlo (Kalachakra) was identified as the deity of skilled workers by His Holiness the Je Khenpo. Every year, college celebrates National Zorig Day to pay tribute to Zorig Deity, Pel Dueki Khorlo. The Zorig Day falls on 15th day of the 3rd  month of Bhutanese calendar.