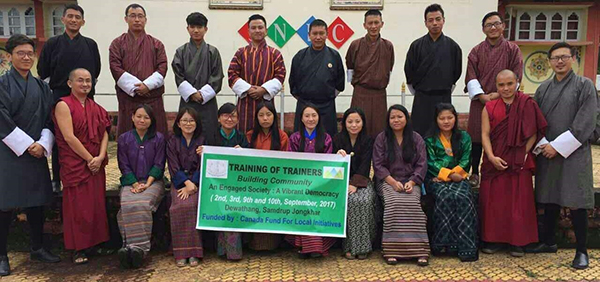 Four Student and One Faculty from the College participated in the Training of Trainers on Community Mapping on 2nd September till 9th September 2017 organized by SamdrupJongkhar Initiative (SJI) supported by Bhutan Center for Media and Democracy (BCMD) and funded by Canada Fund for Local Initiatives. The program was facilitated by the officials from SJI, three teachers from SamdrupJongkhar region who were also the active community mappers.
The training program aims to strengthen democratic participation through empowering youth and citizens as an agent of change and instilling the sense of belonging and responsibility for their community.  The four-day weekend program was designed to train participants through sensitization on individuals' roles and responsibilities in building community by discovering and mobilizing local resources, expertise and knowledge to address community issues.  Therefore the program is based on the principles of asset based approach to community development (ABCD).
During the training program the participants were trained in developing community map, finding the assets or local resources to solve the community issues. With this ToT program, trainees are further expected to train other cohort or youth in order to sensitize and instill the values of social responsibility as an agent of change.
The program was represented by 16 participants who were from Jigme Namgyel Engineering College, Garpawoong Middle Secondary School, Dewathang Primary School, and officials from Youth Development Fund and Bhutan Narcotic Control Agency. The program got concluded with experiences shared by participants, forwarding the message of hope and aspiration in fostering community vitality.
By Publication Unit