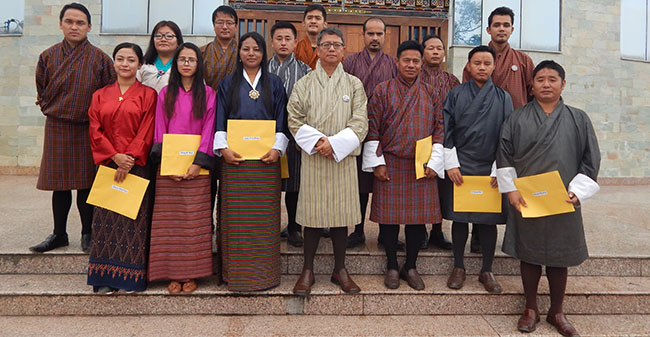 On 21st August till 26th August, 2017 the College provided training on surveying with Total Station and LISCAD, resourced by the faculty of Surveying programme under the Civil Engineering and Surveying department. There were 11 participants from region such as Samtse, Phuentsholing, Gelephu and SamdrupJongkhar.
With the mission to provide resourceful services through professional development training, consultancy, and expert service; the College frequently organizes training on technical, engineering and management field. Similarly the training on surveying with total station and LISCAD  is one of the training programme conducted for the first time in the year 2017 and it is the third time the college is facilitating the training.
One of the resource person Mr. Sanjit Kumar Bhattarai shared that the main aim of the training programme is to educate the technical personnel on the use of the latest surveying equipment such as Total Station and LISCAD. While the participants were also in a view that it was helpful and enhance their knowledge on the use of sophisticated technology. With the positive feedbacks from the participants the College is aspiring to conduct similar training programmes that would benefit the government, private, corporate, and non-governmental organizations in and around the region of SamdrupJongkhar.
By Publication Unit, JNEC