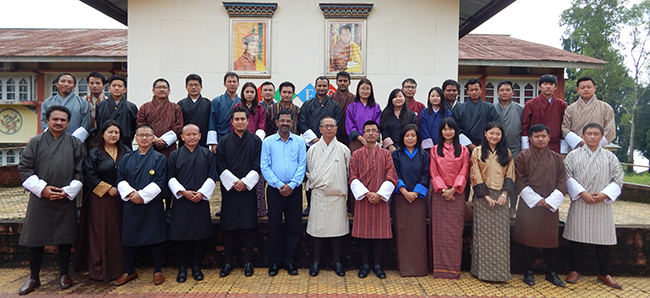 From 25th – 26th September, 2017 the Jigme Namgyel Engineering College (JNEC) and College of Science and Technology (CST) under Royal University of Bhutan had their 3rd (AJFRM) at JNEC. The main objective of the programme is to develop the capacity of the researchers from the two engineering colleges; motivate to carry out research activities and also share the expertise in research and innovations. The programme aims to further enhance the strength of the colleges to be center of excellence in research and innovation works for the need of the society.
The two engineering colleges have been continuously working towards capacity building of its faculties towards achieving excellence in research and innovation through AJFRM. With the successful completion of the 1st and 2nd AJFRM at CST in 2015 and 2016, the 3rd AJFRM was held in JNEC with the theme 'bridge the gap and developing expertise in collaborative Research and Innovation' and sub- theme 'Taking research and innovation to newer heights".
The two day AJFRM started with the "Project Proposal Development" resourced by Dr. Andu Dukpa, President JNEC and supported by CRC members of JNEC. During the presentation by resource person, there was highlight on making participants understand the fundamental tips for carrying out scientific research, consideration to be made and the challenges researchers will faced in terms of resources and time while carrying out engineering research. On later part of the days, participants were grouped into six and each groups were asked to come up with a draft research proposal and present it. During presentation of the draft proposal, there were critics and constructive feedbacks on the proposals from the chair Dr. Andu Dukpa as well the participants.
The programme ended with the presentations of seven paper (completed projects as well recently completed Master Thesis) from JNEC and CST participants. The paper ranges from engineering, architecture as well mathematics which has drawn interest among participants. A total of 35 participants including resource person attended the programme.
Hemlal Bhattarai, DRIL